Rehearsal: July 14-16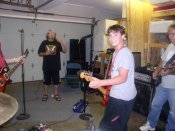 The Cookout: July 18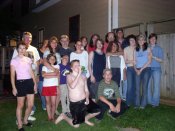 Soundcheck: July 19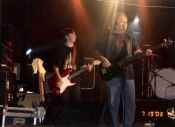 The Openers: July 19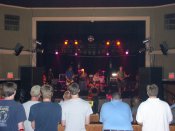 The Performance: July 19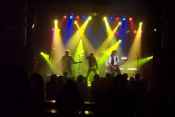 A familiar logo pulses on the video screen, the house lights go down, cheers and whistles go up, and a power chord feeds back through the theatre while the drums pound out a primal beat…Cirkus, the legendary band from NC, hits the stage one more time after a twenty year absence.
You might think, "What have these guys got to offer after that long?" Well, what they offered was a nearly two hour long clinic in the art of high intensity, balls to the wall, take no prisoners rock and roll. Loud, proud, frightening to senior citizens and small children, rude, crude and still socially unacceptable, Cirkus blazed through a setlist that included most of their original songs, and also showed off intense covers of three new songs that they worked up specifically for this show as well as throwing in a solid dose of tunes from their heyday.
There were a few glitches here and there Ė letís be fair, thereís hardly a song where somebody doesnít futz up something, but all in all, it was a worthy return to the stage after far too long. The band was here for the fun and comradery that has been missing for way too long—not to stress over a perfect show. Yeah, this was good.
The main band consisted of Steve Quinney (vocals), Sean Carmichael (guitar), Randy Lee (bass), and Kelly Craven (drums). Special guest appearances were made by Don Parker on guitar, an original member of Cirkus; Erin Carmichael (Seanís daughter) on bass and backup vocals; Jeffrey Foster (Steveís grandson) on guitar; and David Baker (formerly of Razzmatazz) on drums.
The inimitable Steve Quinney was in fine form, possibly the best heís ever sounded with Cirkus, and as he ever was, he is the consummate frontman ("Diamond Daveís got NOTHING on me!").
Seanís guitar work was as solid as ever and with an impressive array of Marshall amps behind him, he blasted out riff after riff of rock and roll goodness.
What can we say about Randy? The band jokingly referred to him as "The God of Thunder" during rehearsals, but Randy proved he is all that and more. Holding down the bottom end with a tone guaranteed to rattle your innards (that would be a really good thing), Randy put on an awesome display of playing some of the heaviest bass lines known to man.
Kelly was once described as "thunderous". Heís always been steady as a rock with just the right touch of flashiness, and we think itís safe to say that nothing has really changed, except for the better.
The special guests also displayed their talents: Don came out and absolutely smoked several AC/DC tunes. David played with his usual power and steadiness, which is considerable. Jeffrey played as if he had been doing it all of his short life on this planet (so far), showing not the first sign that he had any nerves at all about getting on stage with the big boys. And Erin absolutely kicked ass playing bass on Cheap Trickís "Big Eyes". Yes, folks, with Jeffrey and Erin, the future of rock and roll is in very good hands.
There are several people that the band would like to acknowledge for their help not only for this show but for all their support and work from the years past: Wesley Lynn Pittman, Jimmy Bailey, Mark Grossmann, and Kenny OíNeill. These guys, at various times, were members of the Fabulous Cirkus Drill Team, our road crew. All of them made it to the show and we were very happy to see them. Thanks, guys, from the bottom of our hearts.