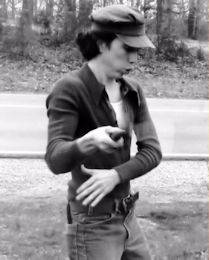 Known to most by his punk persona, Dave Savage, Kelly Bowman Wood was one of the good guys. A really good guy with a huge heart. He was also one of the wildest guys you'd ever come across.
He was a pro on the job and a total punk hellion the rest of the time. We depended on him to keep us together all the while he was barely able to keep himself together. That's the life of a true rock-n-roll soul, is it not?
We missed him greatly when he left the road crew, having been with us since the first days of Jubal. We miss him more now, knowing we were not able to be there to support him, after years of him supporting us.
May his many demons be at peace with each other at long last.