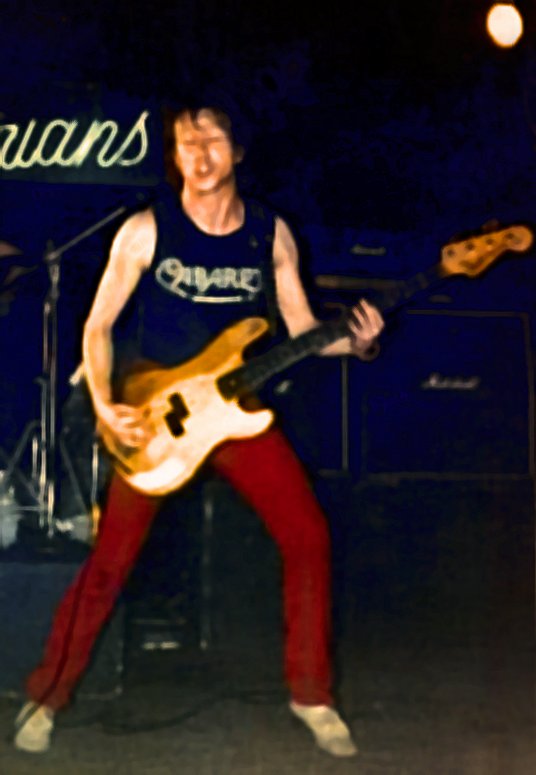 We first met Squire Lilly when he was playing with The Pedestrians. It is commonplace for bands to go see other bands — check out the competition, as it were — and the buzz we heard about The Pedestrians was good so we decided to check them out. Several times. We were enamored of their style plus they were really good players and nice guys to boot.
Fast forward a bit and we found ourselves in search of a bass player. We brought Squire in to jam with us and shortly thereafter offered him the job which he accepted.
As soon as we started rehearsals with him, we knew we had something good happening. We knew he could play, but we didnít know just how well until we really started working with him. He brought a lot to our table including a bunch of original songs that we started working on as well as a somewhat different direction for the band.
Unfortunately, the time period of late 1982 was not particularly a good time to be in a straight-ahead rock band — with the advent of MTV, the rise of video friendly bands was meteoric and the music that was becoming the flavor of the day, what with the synthesizers and drum machines and whatnot, when coupled with the club owners discovering that they could hire DJís at a considerably cheaper rate than live bands, spelled doom for a lot of rock bands and rock clubs…including us.
We disbanded in March 1983 and went our separate ways. Steve paired with Squire in a relatively short-lived project called The Suspects; Sean moved to the Atlanta area shortly thereafter; and Kelly went home to Greenville, eventually heeding the call to Seattle. We lost touch with Squire for a while until he contacted us through our website several years ago, informing us that he was "still playing a beat-all-to-hell Fender Precision" at every opportunity, and we were glad to be back in touch with him.
Although our time with Squire was fairly short, he made a major impact on us. He was a talent that doesnít come along too often and we are very sorry for this loss.
Rest in peace, Squire, we know youíre still rocking with your beat-all-to-hell Fender Precision and your Marshall stack.